CURRENT ISSUE
IN THIS ISSUE
Brushing Up On Your Latin
Do You Have Your Long Form Birth Certificate? By Jim Onyschuk
RADYVILIV - in 2007 By Sonia van Heerden
RADZIVILIV IN 1925 By Sonia van Heerden
The Needle In The Haystack By Jim Onyschuk
Online Storage Prevents Data Loss
Finding Greek Catholic LDS Films Using HALGAL
Genealogical Research in Hungary
Hamburg —LinkToYourRoots
Bremen Passenger Lists 1920-39
Restricted LDS Microfilms For Austrian Military Records
SnagIt—Powerful Software for capturing what is on Your Screen
What's New at the Steve Morse One-Step Website
FREE Genealogy Web Courses
Immigrant History Research Center ( University of Minnesota)
How to contact TUGG
---
At some point, you will encounter some Latin when you examine Galician vital records from a Greek Catholic or Roman Catholic parish.
In 1784 Emperor Joseph II decreed that each pastor was to keep three separate registers; one for births, one for marriages and one for deaths. These registers were to be written in Latin and the events for each village were to be recorded separately by village. The priests were to function as civil registrars of vital statistics for all Catholic and non-Catholic Christian denominations, as well as for Jews. The registers kept by the Catholic priests were to be considered official state documents.
At the time, Protestant and Jewish record books were considered to be private. However, in 1849 the Protestant clergy were also given the status as civil registrars with the same legal rights to act in the same capacity as Catholic priests. In 1868, Jewish record keepers were also granted titles as vital registrars.
If you are interested in Roman or Greek Catholic records stemming from 1784 to about the 1880s then you might need to brush up on your Latin. Even people's names were translated into the Latin versions, e.g. Iwan is Joannes in Latin. So it's useful to know some of these terms.
For Baptism Entries :
| | |
| --- | --- |
| LATIN. | ENGLISH |
| Pag | page number |
| Liber natorum | Book of births |
| Dies et Mensis | Day and Month |
| Natus | Birth |
| Baptisatus | Baptism |
| Ego b., bapt. or baptisavi | means 'I baptised.' |
| Numerus Domus | House Number |
| Nomen | Name of Baptized |
| Religio | Religion |
| Catholica | Catholic |
| Ant Alia | Non Catholic |
| Sexus | Sex |
| Puer | Boy |
| Puella | Girl |
| Filia | daughter |
| Filius | son |
| fil. or f. | can mean son or daughter |
| filium legitimum/f.l. | legitimate son or daughter |
| Thori | Status of legitimacy |
| Legitimi | Legitimate |
| Illegitimi | Illegitimate |
| Parentes | Parents |
| Pater | Father |
| Mater | Mother |
| Nomen et cognomen | Name and Family Name |
| Conditio | Condition, or Profession and other information such as birthplace, current residence or death information. |
| Patrini | Godparents |
| Sponsoribus, sp, sps, ss | all refer to sponsores or godparents |
| De | means 'of' |
| Et | means 'and' |
For a detailed description and tutorial of these terms and others go to:
http://www.halgal.com/birthrecord.html

For Marriage Entries :
LATIN.

ENGLISH

Dies et Mensis Natus et Baptisatus

Day and Month of Birth and Baptism

Numerus Domus

House Number

groom

Sponsa

bride

Nomen

Name

Religio

Religion

Coelebes/Viduus or Vidua/Aetas

Unmarried/Widower or Widow/Age

filius

son of...

filia

daughter of...sometimes abbreviated for both (fil.)

filius leg.

legitimate son

filia leg.

legitimate daughter

fil. leg.

abbreviation for both

de

of

de domo

of the house of

ex

from

nata

born - with the maiden name

habit.

in + place name residing in...

de

+ place name from...

nat. in

+ place name born in...

p.d. (post delicta)

deceased

Catholica/Accatholica or
Catholica/Ant Alia

Catholic/Non Catholic


"r.l." or "r.g."


This stands for Latin Rite (or Roman Catholic) for the first, and Greek Rite (or Greek Catholic/Ukrainian Catholic) for the second.

graeco cath.

Greek Catholic

rom. cath.

Roman Catholic

for the Groom (Unmarried/Widower)

Coelebs/Vidua

for the bride (Unmarried/Widow)

Age

Witnesses

Testimonii or Test.

refers to witnesses

Testes et Conditio

Witnesses and Occupations

In matrimonium coniunxi…,
or mat. con.

means 'joined in matrimony are..'
For a detailed description and tutorial of these terms and others go to:
http://www.halgal.com/marriagerecord.html
For Death Entries:
LATIN

ENGLISH

Numerus Serialis or Nr. posit.

Serial Number or Position Number

Dies et Mensis Natus et Baptisatus

Day and Month of Birth and Baptism

House Number

Nomen

Name

Coelebes/Viduus or Vidua/Aetas

Unmarried/Widower or Widow/Age

filius

son of...

filia

daughter of...
sometimes abbreviated for both (fil.)

filius leg.

legitimate son

filia leg.

legitimate daughter

fil. leg.

abbreviation for both

de

of

de domo

of the house of

ex

from

nata

born - with the maiden name

habit.

in + place name residing in...

de

+ place name from...

nat. in

+ place name born in...

p.d. (post delicta)

deceased

Religio

Religion

Catholica/Accatholica or
Catholica/Ant Alia

Catholic/Non Catholic


"r.l." or "r.g."

This stands for Latin Rite (or Roman Catholic) for the first, and Greek Rite (or Greek Catholic/Ukrainian Catholic) for the second.

graeco cath.

Greek Catholic

rom. cath.

Roman Catholic

Coelebs/Viduus

for the Groom (Unmarried/Widower)

Coelebs/Vidua

for the bride (Unmarried/Widow }

Name of Deceased

uxor

spouse

p.d.or post delicta

deceased

derelicto marito

deceased husband

vidua post mortum

widow of the previously deceased

coelebs

unmarried

age at death

annorum, an, anno, anni

year(s)

mensis, mensium

month(s)

hebs, hebdomadum

week(s)

die, dies, dierum

day(s)
For a detailed description and tutorial of these terms and others go to:
http://www.halgal.com/deathrecord.html
For Cause of Deaths:

| | |
| --- | --- |
| LATIN | ENGLISH |
| Morbus et Qualitas Mortis aeger | Disease or Cause of Death illness |
| epidemic | epidemic |
| agrippo | pneumonia |
| catarrhus | cattarh |
| cholera | cholera |
| convulsio | spasm |
| debilitas | debility |
| febris | fever |
| ictus | stroke |
| ordinaria | ordinary (natural causes) |
| pestilentia | epidemic |
| phtisis | tb |
| pustula | pox |
| senectus | old age |
| singultio | hiccup |
| tabes | tb |
| tussis | cough |
| tyfus | typhus |
| scarlatina | scarlet fever |
| morbile | measles |
| Partus Difficilis | death of women during child birth |
| sep. | the person who buried the remains of the deceased |
For Occupations:
| | |
| --- | --- |
| LATIN | ENGLISH |
| agricola | farmer |
| aucilla | maid |
| nobilis | nobleman |
| cauponius | innkeeper |
| cmethonis | farmer |
| coriarius | tanner |
| curator | manager |
| faber | artisan/smith |
| faber ferra | blacksmith |
| faber lignatus | carpenter |
| iurator | assassor |
| mendicus | beggar/needy |
| magister | teacher/leader |
| molitor | miller |
| miles | soldier |
| obstetrix | midwife |
| pauper | pauper |
| procurator | administrator |
| rusticus | farmer |
| scriba | scribe |
| silvanus | forrester |
| sutor | shoemaker |
| textor | weaver |
| vestiarius | tailor |
Ukrainian names and their Latin versions
| | |
| --- | --- |
| UKRAINIAN | LATIN |
| Ahafi іa | Agatha |
| Ahnesa | Agnes |
| Oleksi і | Alexius |
| Oleksandr | Alexander |
| Anastasi іa | Anastasia |
| Anatolii | Anatolius |
| Andri і | Andreas |
| Anhelyna | Angelina |
| Hanna | Anna |
| Anton | Antonius |
| Bohdan | Deodatus |
| Boleslav | Boleslaus |
| Borys | Borislau |
| Valentyn | Valentinus |
| Vasyl' | Basilius |
| Vira | Fides |
| Vitalii | Vitalis |
| Vlas | Blasius |
| Volodymyr | Vladimirus |
| Havrylo | Gabriel |
| Halyna | Helena |
| Hanna | Anna |
| Heorhii | Georgius |
| Hryhorii | Gregorius |
| Hryts | Gregorius |
| Danylo | Daniel |
| Denys | Dionysius |
| Dmytro | Demetrius |
| Dokiia | Eudoxia |
| Yeva | Eva |
| Yevhen | Eugenius |
| Yevdokiia | Eudoxia |
| Yevfymiia | Euphemia |
| Yelysaveta | Elisabeth |
| Zenon | Zeno |
| Ivan | Joannes |
| Ihnat | Ignatius |
| Karl | Carolus |
| Kateryna | Catharina/Catherina |
| Klara | Clara |
| Konstantsi іa | Constantia |
| Konstiantyn | Constantinus |
| Kuzma | Cosmas |
| Kyrylo | Cyrillus |
| Ksenia | Xenia |
| Iefym | Euphemius |
| Ievfrasi і | Euphrasius |
| Ievheni і | Eugenius |
| Franko | Franciscus |
| Franka | Francisca |
| Iuri і | Georgius |
| Hryhori і | Gregorius |
| Iakiv | Jacobus |
| Іоsyp, Osyp | Josephus |
| Іоsypa, Osypa | Josepha |
| Іosafat | Josaphat |
| Lavrentii | Laurentius |
| Leon | Leo |
| Lesia | Alexandra |
| Lev | Leo |
| Lidiia | Lydia |
| Liubomyr | Lubomirus |
| Luka | Lucas |
| Mahdalyna | Magdalena |
| Maksym | Maximus |
| Mariika | Maria |
| Mariia | Maria |
| Marta | Martha |
| Martyn | Martinus |
| Matvii | Matthaeus |
| Mefodi і | Methodius |
| Mykola | Nicolaus |
| Myron | Myron |
| Myroslav | Miroslaus |
| Mykhailo | Michael |
| Nadiia | Spes |
| Nastia | Anastasia |
| Nestor | Nestorius |
| Nykodym | Nicodemus |
| Oksana | Xenia |
| Oleksa | Alexius |
| Oleksander | Alexander |
| Oleksii | Alexius |
| Olena | Helena |
| Olesia | Alexandra |
| Olha | Olga |
| Omelian | Aemilianus |
| Onufrii | Onuphrius |
| Orest | Orestes |
| Osyp | Josephus |
| Ostap | Eustachius |
| Palahiia | Pelagia |
| Pavlyna | Paulina |
| Pavlo | Paulus |
| Panteleimon, Panko | Pantaleon |
| Paraska | Paraskevia |
| Paraskeviia | Paraskevia |
| Pelahiia | Pelagia |
| Petro | Petrus |
| Pylyp | Philippus |
| Prokopii | Procopius |
| Rozaliia | Rosalia |
| Roman | Romanus |
| Romana | Romana |
| Rostyslav | Rostislaus |
| Sviatoslav | Suentoslaus |
| Serhii | Sergius |
| Symon | Simon |
| Solomiia | Salome |
| Sofiia | Sophia |
| Stanyslav | Stanislaus |
| Stepan , Stefan | Stephanus |
| Stefaniia, Stepanyda | Stephana |
| Tadei, Fade і | Thaddaeus |
| Tamara | Thamara |
| Taras | Tharasius |
| Teklia | Thecla |
| Teodoziia | Theodosia |
| Teodor, Fedir | Theodurus |
| Teodora | Theodora |
| Teodosii | Theodosius |
| Teofil | Theophilus |
| Teresia, Tereza | Teresia |
| Tetiana | Tatiana |
| Tymofii | Timotheus |
| Uliana | Juliana |
| Fedir | Theodorus |
| Feska | Theodusia |
| Florentsiia | Florentia |
| Kharytia | Charitina |
| Khvedir | Theodorus |
| Khoma, Foma | Thomas |
| Khrystyna | Christina |
| Khrystofor | Chnstophorus |
| Kseniia | Xenia |
| Yuliia | Julia |
| Yuliian | Julius |
| Yurii | Georgius |
| Yustyn | Justinus |
| Yustyna | Justina |
| Yakiv | Jacobus |
| Yaryna | Irena |
| Yaroslav | Jaroslaus |
---
Do You Have Your Long Form Birth Certificate?
By Jim Onyschuk
Are you planning to do genealogical research in Ukraine? Then you should have a copy of your Long Form Birth Certificate, especially if you are seeking information from a vital-statistics or civil-registry office, known as a RAHS Office. Here you could request birth, marriage and death information about your parents or grandparents. But before they will provide that information, you must show a direct family-line connection. The best way to show this connection is through your Long Form Birth Certificate. You may also be able to obtain information about your additional direct-line ancestry.
Your Short Form Birth Certificate is the plastic-embossed card most people carry with them. This includes basic information such as:
Name (last name and given name(s))
Date of birth
Certificate number
Birthplace
Sex
Date of registration
Registration number
Date issued
However, it does not show any information about your family connection. This information is found in a Certified Long Form. This document contains all registered information, including:
Name (last name and given name(s))
Date of birth
Birthplace (city, town, village, municipality)
Sex
Location of birth (hospital, birthing centre, etc.)
Parents' names
Parents' dates of birth
Mother's mailing address at the time of birth
Duration of the pregnancy
Number of children born to this mother
Parents' birthplaces
Weight of the child at birthType of birth (single, multiple, etc.)
Attendant at the birth
Date of registration
Registration number
Date issued
Have you searched the archives or the LDS microfilms and found that the files they carried did not cover the more recent years you were searching? For example, the Greek Catholic Church birth records for Hlibiv only go to 1865. So, if your grandfather was born around 1875; you will need to obtain this information from the RAHS Office for Hlibiv, which is located in Husiatyn. Make sure you have a copy of your Log Form Birth Certificate with you.
NOTE: When World-War II started the Church Registry Books were taken from the local parishes and Bishop's offices and placed in a local ZAHS Office (RAHS predecessor). An individual parish registry would cover many years. Before a book would be turned over to the archives, it would remain in the RAHS office until the last entry included in the book was more than 75 years old. Rather than taking a book with records and breaking it in sections to turn those records over to the archive that are more than 75 years old, the RAHS authorities would simply look at the most recent record in the parish book and then wait until it is 75 years old before turning in the whole book. So if a book was started for example by the priest in 1866 and went to 1939, they will keep it in the RAHS until about 2014 and then turn it over to the archives. At least this is the way it is supposed to work. In reality they sometimes turn them over early, including up to 1940 and sometimes they don't bother to turn them over even once they are more than 75 years old.
So, if you cannot find records for a number of years, they are probably collecting dust in some local RAHS Office.
How to Obtain the Long Form
If you were born in Ontario, you can order your Long Form Birth Certificate online by going to:
https://www.orgforms.gov.on.ca/eForms/start.do?lang=en
Make sure you order up the Long Form, it will cost you $35.00.
If you were born elsewhere in Canada go to the TUGG Links page.
http://www.torugg.org/TUGG%20Links/tugg_links.html
Click on the Vital Records For Canada And The USA link and follow the additional links.
---
RADYVILIV - in 2007
By Sonia van Heerden
Since writing the article in 1994 of my mother's village of Radziwillow/Radziviliv/Chervonoarmeysk, I have visited family there this year and noted the changes from what mother remembered in 1925 when she left as an 8 year old girl.
Mother was born in the City of Rovno, Volhynia (now Rivne, Rivne Oblast, Ukraine) in the year 1916, because her parents were refugees from the city of Radziwillow during the First World War. After the War they returned to their holdings in Radziwillow until mother left for Canada in 1925. Puchaviska Vulicha ( Monastery Street) is the main street leading to the Pochayiv Monastery about 100 kilometers south of Radyviliv. Their house was No. 124 Puchaviska Volicha, and the number is still on the newer house on the lot. The street is not too busy, but when cars go by, they are speeding as they are just coming into town from the highway. I was told to be very careful on this road as our host, Vyuba MIHALIUK, had lost her only son, Volodya, at 4 years of age, when he was run down on the street. We noticed a farmer across the street take out his horse and wagon from a garage to travel to his holdings out of town to harvest vegetables for the winter.
About 10 years ago I wrote to the Mayor of the town (Holova) and asked that a letter addressed to the MIHALIUK family be passed on. It seems that it had been passed to one MIHALIUK family which did not recognize any of the names I mentioned, and then in turn at the Ukrainian Orthodox Church they passed along the letter to another MIHALIUK family, cousins of mother's, who still live in the house next door to mothers. We have been corresponding since then, and I visited them this year.
The town had about 4,000 residents before World War II, about 2,000 Jews were rounded up and vanished during the War, and now there are about 10,000 people in the town. There is a flour mill, textile mill and zipper factory. Many people who have degrees cannot find jobs to fit the degree, and work at other jobs. Teachers of Russian are not in demand, and engineers are working at menial jobs. The profession to be in at present is in the "remond" business, as they call it - remodelling homes and businesses. Everyone is remodelling, and a contractor can pick and chose his prospects, and often takes on more jobs than he should. A person is lucky if he sees his contractor once every five days. There are no "do-it-yourself" shops available; everyone has to depend on these contractors.
Feodor (1841-1920) & Olena MIHALIUK had 1 daughter and 3 sons. When he died in the 1920s, he divided his property among two sons, Feodosiy MIHALIUK, grandfather of the woman living there now, and Ivan MIHALIUK, my grandfather. The two sons built houses next to each other. When my grandfather, Ivan, died in 1937, his last remaining son in Ukraine, Alexander MIHALIUK, took over ownership, and he finally immigrated to Canada and sold his land to his uncle, Stephan MIHALIUK. When Stephan died, the property was sold to strangers.
Feodosiy had seven sons and 3 daughters, and his property ended up with his 8th son, Volodya MIHALYUK. Three generations live in the house; Volodya's wife, Vyuba, one daughter, Valya MIHALIUK, and her son and daughter-in-law, uslan and Irina KROPYWSKI, live in the new house built on the plot.
When the Soviets came into Ukraine, they decided that the families did not need that much land, so they subdivided the lots, and now there are two households, plus a roadway and another household across the road where each family had lived. Mother would not recognize the place. Each house has a gate and driveway at the side of their lot to a garage, a house very close to the roadway, with its entrance at the back of the house. Valya has a small garden behind the house where her chickens peck and a chicken coop make up the remainder of her property. She can go through her backyard to her sister's roperty behind.
Her sister Lili SAVCHUK has a larger house, also with 3 families living in it. Lili and her husband Ivan have 2 children; Sergiy and his wife and baby, Taras, occupy one bedroom, and their daughter Natalia uses one bedroom while her husband remodels a house for them to live in. Lili also has chickens and a chicken coop and a pig house for her 3 pigs. The yard in the fall was full of pumpkins they had picked from their co-operative field about 10 kilometers away and bags of potatoes. Mashed potatoes are served at all main meals.
In front of Lili's house is a gravel road and another house across the street. Beside the house is a small plot of land reserved from the original Mihaliuk land for the Mihaliuk daughters to have a small garden. The creek behind their land has long been filled in by the Soviets.
Across Puchaviska Vulicha was the home of another Mihaliuk cousin. Illaryia MIHALIUK KOVALCHUK had donated this land to the Ukrainian Orthodox Church, and for five years ten families attended services in the house. Then twenty families joined the church, and now a block away a new church is used for services. Previous to this there was only the Russian Orthodox Church in own.
Flowers still play an important role in Ukrainian homes. There were geraniums, phlox, marigolds, salvia, roses, zinnias, asters, alyssum, ageratum, morning glories, and canna lilies still blooming, with grapes, corn, parsley, beets, parsley, pumpkins, peppers, walnuts, and tomatoes in the gardens in October.
Radziwilliw was named after the Polish Radziwill family (the Radziwill Palace in Warsaw is the home of the President of Poland). I asked whether the family had lived in Ukraine and was advised that they just purchased the land and named he town after their family. They did not live here. Then the Soviets did not want a town named after Polish nobility, and changed the name to Chervonoarmeysk in 1945. After independence in 1991 the Ukrainians changed the name of the town to Radyviliv.
Below is my rendition of what the two properties owned by Ivan and Volodya MIHALIUK look like now.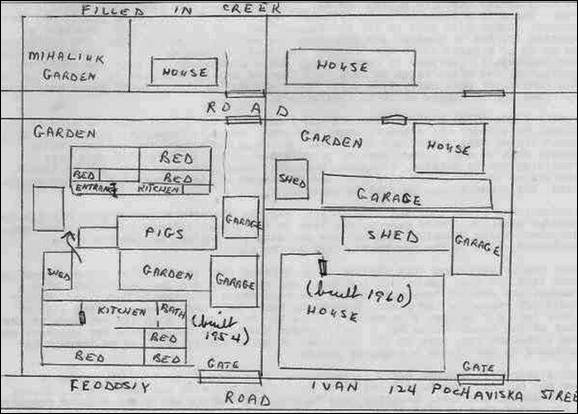 ---
RADZIVILIV—A UKRAINIAN VILLAGE IN 1925
By Sonia van Heerden
My mother was eight years old when she left her village of Radziviliv (Radziwillow) in the spring of 1925. This village is in Volyn, Ukraine and is located 10 km northeast of Brody. The boundary between the former Austrian province of Galicia and the Russian province of Volhynia was located between Brody and Radziviliv. My mother, Nina Michaliuk, was born in the city of Rovno Volhynia to Ivan and Efrosinia (nee Nazarewich Michaliuk. The family later moved to Radziviliv to be near the Michaliuk family.
The village has one main cobblestone street, Puchavisk Vulicha (Monastery Street), which had the Russia] Orthodox Church, the Polish Catholic Church and the only school which was Polish. Children were required by their teacher to attend the Polish Catholic church every Sunday or answer for their neglect at school the next day People travelled by horse and buggy in the summer and sleigh in the winter. Seldom did exciting events occur. One such event might be the sighting of an automobile in the village.
Mother remembered her house as being on a long narrow lot, with a wooden fence on three sides and a creek running across the back. There was a Jewish family living on one side of them. The Michaliuk family consisted of the father, mother, two older brothers and Nina. Another family, Mr. and Mrs. Tilintinov and their adopted daughter Genia lived with them. The Michaliuk cousins lived across the street.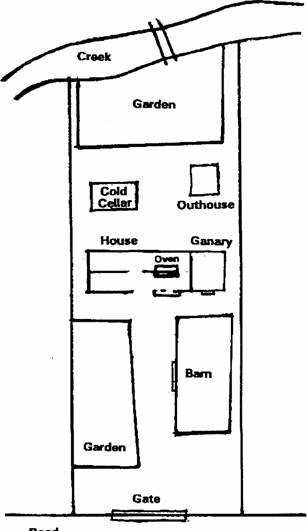 The front gates were large enough for horses, carriage and cows to pass through. The house was long and narrow, made of mud and set perpendicularly in the middle of the lot. The granary was attached to the house which made it seem longer. The house had only one door at the front with a mudroom inside for outer clothing. Beyond the mudroom there were only two large rooms both of which stretched the full width of the house. The front room was a living room and bedroom and the bad room was the kitchen. The highlight of the house was the large oven/stove built into the dividing wall facing the kitchen. On the back of this wall, behind the stove, were cozy shelves facing the front room. The children sat on these shelves to play. Tables and benches were located in both rooms with some beds in the front room. Mother remembers drawing pictures in the frozen front room windows in the winter. Below the floor was a cold cellar for root vegetables.
ROADWAY
The barn was set against the right fence as you looked at the house from the roadway. It housed the horses, cows, pigs, ducks and chickens. There was also a fenced garden at the front of the house for vegetables and flowers. Marigolds, red peppers and geraniums grew near the barn. The geraniums were made into garlands by
mother's Michaliuk cousins and were hung around the Russian Orthodox church icons during festive occasions.
Behind the house was the outhouse and another vegetable garden. Vegetables grown included corn, potatoes, carrots, cabbage, beets, garlic, onions, peas, lettuce and cucumbers. The herb dill grew wild. More potatoes and grain were grown outside the village on land owned by the family. It was forbidden to grow tobacco but farmers secretly grew it among their corn and other tall crops and dried it in their outhouses out of sight of the officials.

There was a board stretched across the creek behind the house with a forest beyond the creek. Mother would take a sieve to filter the algae in the stream and feed this delicacy to her ducks.
There was a cold cellar behind the house which consisted of a large hole lined with straw. This was covered with walls and a roof to make a small house. Steps led down to this cellar. It housed ice and meat for the family's use and also for selling at the markets in Dubno, Brody, and Rovno.
Granny was a butcher and slaughtered pigs and chickens. She also made sausages. She travelled by train to Rovno to the large market to sell meat and kolbassa. Nina was frequently left with her older cousin, Luba Harasimchuk for a few days.
The cows were pastured some distance away from the house in a field. Mother spent many days watching that they did not wander into the grain fields. Wheat in the fields was cut with a scythe and stacked in stocks until dry. The wheat was flailed with long sticks in the granary, winnowed out in the front yard on large pieces of canvas and delivered to the local mill to be ground into flour. Mother remembered her older brother preferred to go to the mill and watch it process grain rather than bringing her the noon day meal in the fields.
You cannot find Radziviliv on modem maps. The gazetteers state that the Russians changed its name to Chervonoarmeysk (Red Army) in 1945.
I now have a picture in my mind of a Ukrainian village in the early 1920's as seen through the eyes of a small girl. Perhaps, in the future, as my mother remembers more, I will have. a clearer picture.
The article was originally published in the East European Genealogist—Vol. 2, #4 ,1994
---
The Needle In The Haystack
By Jim Onyschuk
One of my early 'brick walls' was finding out the particulars about my Grandfather's voyage to Canada. All I had to start with was that he came to Canada in 1907. That information I had gathered from family sources (my aunts) as well as from a book about Ethelbert Manitoba.
The excerpt from the book that pointed me to 1907 read:
"Alex and Anne Dutka (nee Wozny), from the village of Borshiw, Galicia, had six children: Michael, Magda, Marina, Samuel, Peter and Polly. Michael and Peter were the only children who survived the cholera epidemic. In 1904, Alex and son Michael immigrated to Canada. Three years later, his wife Anne and son Peter came over. The family settled on a forty acre farm in Valley River."
Source: pps. 237, 238 "The Ties That Bind: A History of Ethelbert and District Altona, Manitoba: Ethelbert History Book Committee, 1985".
From this excerpt I knew that: (1) my Grandfather and Great-Grandmother came to Canada in 1907; (2) my Great-Grandfather and his son came to Canada in 1904; and (3) the family settled in Valley River.
The Search for Peter Dutka and His Mother
I would start with trying to locate the 1907 records for my Grandfather. I suspected that they would have come through either the port of Halifax, St. John, North Sydney, Montreal or Quebec. In 1907 there were 163 ships that came through Halifax, 116 ships through St. John, 157 through North Sydney, 202 through Quebec and 173 through Montreal. With such a large number of ships to revue, I almost gave up, hoping that someday their records would be online. But being stubborn, I decided to do the search.
I figured that it made sense that they would have probably come in the early spring. I also suspected that it would have been on a larger ship with many immigrants listed from " Austria or Galicia." So I limited my search to these two factors, which would dramatically reduce the pile of ships I had to go through. I also started with the port with the fewest and that was St. John, New Brunswick. Finally I would first look at those ships that I knew had carried "Ruthenians," i.e. Ukrainians.
I would examine the records of the Empress of Britain, Ionian, Montezuma and the Montrose, since I knew they carried Ukrainians. After many hours of searching I decided to try a hunch. My uncle Peter Onyschuk came over on the Montrose, so I gave it a try. There was a landing by the Montrose on March 21. Sure enough, after scrolling through a dozen ledger pages, I found my Grandfather and Great-Grandmother on page 13 of the ship records.

The SS MONTROSE left Antwerp, Belgium on March 6 and arrived in St. John, New Brunswick. Anna Dutka was 48 and Petro was 9. She had $10 on her and they were headed to Sefton, Manitoba.
The Search for my Great-Grandfather
Next, I would search for my Great-Grandfather's voyage. When I spoke with my aunt Tilley, she informed me that she thought that the oldest son Michael had preceded his father to Canada and that his father, Olexander came a year later. Now I was facing a major roadblock. The book implied that both Michael and his father came together. "In 1904, Alex and son Michael immigrated to Canada." The book was published in 1985, long after Olexander's death (1936) and Michael's death (1966).The book was based on interviews with Michael's family members and probably not too accurate. For example, they reported that the Dutka's were "from the village of Borshiw." This was inaccurate; they were from Losaicz, which was in the district of Borszczow. The information from the book conflicted with that given me by my aunt Tilley. I now was faced with the problem of where could I get documented evidence of their arrival date or year?
There were a number of sources, which could provide their arrival information. I could check their Naturalization papers, the 1940 National Registration papers or the Census records. Naturalization papers would give the birthplace, the arrival year and possibly the actual date. The 1940 National Registration papers would also give the birthplace and the year of arrival. The Census records would give me the arrival year, as well. So, I knew where to look.
First I tried to obtain the Naturalization papers for Olexander. I could access them since he was born in 1856 and the confidentiality rule no longer applied. Unfortunately, they could not find his naturalization papers. Next I checked the 1911 Census records and "bingo," I struck gold. The 1911 Census had Olexa arriving in Canada in 1906 and Michael arriving in 1903. Now I was ready to search in earnest.
Finding Michel Dutka
First I would search the Hamburg listings, hoping that both my Great-Grandfather and Granduncle came via that port. The Hamburg listings are alphabetical and easy to search online. After entering "Dutka" in their search engine I found that there was no Olexa Dutka listed. However, there was a Michel Dutka listed from Losiacz. Since, I knew that Losiacz was the birthplace of my Dutka's, this was the right Michel.
Michel sailed aboard, the BULGARIA from Hamburg on May 12 th, 1903. His ports of arrival were Boulogne and then Halifax. The Hamburg Passenger List Had him listed as Michal Dutka, estimated birth year 1882, age 21 from Losiacz. The estimated birth year on the listing also matched his birth year. This doubly confirmed that I was looking at the right Michel.He had $3 in his possession and was headed to Winnipeg, Manitoba. The voyage would take 15 days and he arrived in Halifax on May 27 th.

Mihaly DUTKA is listed on line 6 of page 42 of the Halifax Passenger List for the SS BULGARIA.
Earlier, on 4 March, 1903, relatives Fed Dutka (48) and Iwan Dutka (46) from Losiacz, traveled to Canada aboard the SS ARCADIA. They were headed to Winnipeg, Manitoba.
Finally Locating Olexa
The search for Olexa would not be so easy. Since I had no Hamburg records to pin-point the ship and date, I would have to do a boat-by-boat search. To narrow the search, I suspected that he would have taken a similar route as that of his son Michel. I focused my search on those ships that came via Antwerp, Belgium in the spring of 1906. I was lucky and didn't have to search many listings. I had found Olexa.
Olexa Dutka arrived in the port of Montreal, Quebec on May 11, 1906 aboard the MONTEZUMA after a sixteen-day voyage. The MONTEZUMA left Antwerp, Belgium on April 25.
There were 1967 passengers aboard with 204 headed for the USA and 1763 headed for Canada. The Passenger List had Olexa on page 37 and he was 51 at the time. The listed age confirmed that I was looking at my Great-Grandfather's passenger list.

MONTEZUMA / IRON DUKE / ABADOL / OAKLEAF 1899
The MONTEZUMA was a 7,345 gross ton ship, length 485ft x beam 59ft, one funnel, four masts, twin screw, speed 13 knots. Built by A. Stephen & Sons, Glasgow, she was launched as a cargo steamer with limited passenger accommodation for Elder Dempster & Co on 11th Jul.1899. Transferred to Canadian Pacific when they purchased Elder Dempster's Canadian services in 1903, she was fitted with accommodation for 1,000-3rd class passengers and started her first London - Antwerp - St John NB voyage in March 1904. On 8th May 1904 she commenced her first London - Antwerp - Quebec - Montreal sailing and in 1914 was taken over by the Admiralty and converted into a dummy of the battleship HMS IRON DUKE. On 7th Jul.1915 she was purchased by the Admiralty, renamed ABADOL and used as a naval oiler.
The SS MONTEZUMA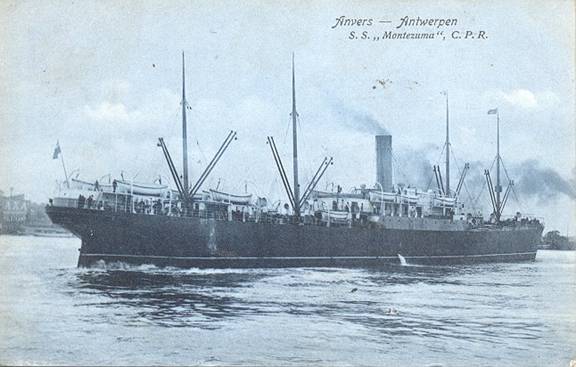 In 1917 she went to Lane & MacAndrew as the OAKLEAF and on 25th July 1917 was torpedoed and sunk by the German submarine UC.41 while 64 miles from the Butt of Lewis, Scotland. [North Atlantic Seaway by N.R.P.Bonsor, vol.3,p.1307]
---
Online Storage Prevents Data Loss
We have all heard the horror stories about losing important data, due to a computer crash. If you have a CD burner, you have probably saved your important files by storing them on CDs. Some may also save data onto a portable hard drive. These are important ways of protecting those important files, especially irreplaceable family history files and pictures that you have accumulated over the years. There is yet another level of storage that should be considered—online storage. The recent flood disaster of New Orleans pointed out that even if one had backed up their data onto CDs and a portable hard drive, these too may have been lost.
Online storage provides data security in situations where there may be a catastrophic loss due to a fire, hurricane or other such disaster. There are a number of online services which are both reasonable and easy to access. The one I use is called Jungle Disk and provided by Amazon.com's S3 ™ Storage Service. The link http://jungledisk.com/ provides details as to the process of accessing the service. Below are some of the benefits of using Jungledisk online storage.
Store an unlimited amount of data for only 15¢ per gigabyte
No monthly subscription fee, no startup fee, no commitment
Your data is fully encrypted at all times
Data is stored at multiple Amazon.com datacenters around the country for high availability
Access files directly from Windows Explorer, Mac OSX Finder, and Linux
Automatically backup your important files quickly and easily
Unlike other services, with Amazon S3 ™ there is no mimimum and no maximum amount of data you can store. You pay only for the actual amount of storage you are using.

Data stored

Monthly transfer

Amazon S3™

Bingo!

Box.net

GoDaddy

Streamload

.Mac iDisk

250MB

25MB

$0.51

$49

$49.99*

$10

$44.95*

$99.95

4GB

400MB

$8.16

$49

$49.99

$40

$44.95

$99.95

8GB

800MB

$16.32

$49

$99.99

$80

$44.95

$99.95

20GB

2GB

$40.80

$49

NA

$200

$44.95

$149.95

* Box.net and Streamload have free accounts limited to 10MB file size and other restrictions
* Price comparison as of 2/18/2007 based on prices posted on each service's web site

Data stored

Monthly transfer

Amazon S3™

Bingo!

Box.net

GoDaddy*

Streamload

.Mac iDisk*

250MB

25MB

$0.05

$4.08

$4.99*

$0.83

$4.95*

$8.33

4GB

400MB

$0.68

$4.08

$4.99

$3.33

$4.95

$8.33

8GB

800MB

$1.36

$4.08

$9.99

$6.67

$4.95

$8.33

20GB

2GB

$3.40

$4.08

NA

$16.67

$4.95

$12.50

* Box.net and Streamload have free accounts limited to 10MB file size and other restrictions
* Bingo!, GoDaddy, and .Mac storage only available pre-paid yearly, average monthly cost shown
* Price comparison as of 2/18/2007 based on prices posted on each service's web site
What can I use Jungle Disk for?
Jungle Disk makes it easy to store any data securely online, and access it from any computer just like a local disk drive.
Jungle Disk is even better than adding a larger hard drive or an external USB drive to your system:
You get unlimited capacity
You don't pay for space you're not using
A USB or local hard drive will fail 15% of the time within 5 years
Your data is secure in Amazon.com datacenters, where it is safe from fire, computer crashes, and viruses
Use it for:
Backing up your important files

Photos
Home movies
Music
Business records
Address Book
E-mail history

Sharing files between computers

Easily move large files between work and home
Share files with friends and family

Freeing up space on your computer hard drive

Move seldom used files to online storage
Have an unlimited capacity drive for your music, movie, and photo collections
---
Finding Greek Catholic LDS Films Using The HALGAL Search Pages
Click on: Greek Catholic Church Records of the Central State Historical Archive of Ukraine, city of Lviv link.
On next page scroll to the bottom to where it reads Enter Village or Parish. Enter the Polish spelling without the diacritic markings or the Ukrainian Spelling, e.g. Putiatynce (Polish) or Putiatyntsi (Ukrainian)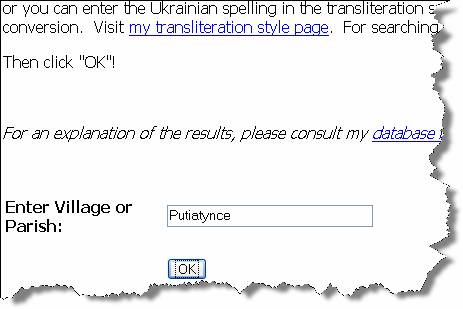 It shows that there are 3 Sprava/Files for Putiatynce which are Bishop's Copies found on 2 LDS microfilms, namely #2347147 and #2347148.
A Bishop's Copy will contain birth, marriage and death records for the years indicated for each Sprava/File.
---
Genealogical Research in Hungary
This website is dedicated to genealogy research in Hungary and aims at helping family historians in finding out more about their Hungarian ancestry.
Key available resources include: industry and trade directory of Hungary in 1891, a searchable 1913 gazetteer of Hungary, and a listing of the most frequent Hungarian surnames (find spelling alternatives of 6,000 surnames in Hungary in the 1890s). Also available is a forum of Hungarian surnames being researched where you can add the names you are searching and a link to a new Hungarian genealogy weblog (blog) called Radixlog with news about Hungarian family history research.
---
www.linktoyourroots.hamburg.de
Many immigrants from Europe left via Hamburg, Germany. For a long time, the index to these records (1850-1934) has been available on microfilm through the FHL. The online database, "Link to Your Roots", was launched several years ago by the Hamburg State Archives for searching the Hamburg emigration lists.
The Hamburg Passenger Lists covering the period 1850 to 1934 have been scanned and are now available online for ancestral research. You can find them at www.ancestry.com.
Ancestry.com provides a complete name index of all passengers that left Hamburg between 1890 and 1912. These lists have been entirely digitized, that is, all information has been transferred into electronic databases.
The remaining passenger lists (1850 – 1890 and 1912 - 1934) may be browsed in chronological order by way of entering a specific departure date as keyword and/or a ship's name. The name index for these periods is currently being digitized so as to make it easier for you to locate a particular passenger's name on the lists. A work in progress, newly digitized data will continually be added to the Web site.
Visit www.ancestry.com and conduct your own research in the original documents!
---
Bremen Passenger Lists 1920-39
http://db.genealogy.net/maus/gate/index_en.html
Bremen was a common port of departure for Ukrainian and Polish immigrants. Unfortunately, from 1875-1908, the staff of the Nachweisungsbureau, because of insufficient office space, decided to destroy all lists older than three years. With the exception of 2,953 passenger lists for the years 1920-39, all other lists were lost in WWII. You can search the database free of charge, and obtain such details as family name, first name(s), sex, age, place of residence, nationality, profession and destination. Even if you don't turn up your ancestor, perhaps a relative or neighbor will appear.
---
RESTRICTED LDS MICROFILMS FOR AUSTRIAN MILITARY RECORDS

[Editor -- I saw a note posted to the Galicia_Poland-Ukraine list from Karen Hobbs, who has enormous expertise in dealing with this subject. I know a lot of researchers encounter all kinds of problems trying to find and access military records for Galicia, so I thought some of you might like to see what Karen wrote.]

The rules are:
Any material not yet 100 years old cannot be viewed by anyone other than a direct descendant. The descendant must certify that the information is for genealogical purposes only.
Any title in the LDS film catalog that INCLUDES any material that is less than 100 years old is restricted.
One cannot order any material under that title even if the particular film does not have data that is less than 100 years old. This affects some films that include the year 1840-1920. (What a shame!!)
This affects all officers' records and many of the regimental Kirchenbücher that are so valuable for random searches.
There are two ways to get copies of selected pages from restricted materials / films.

From the War Archive:
Search with: Wien Kriegsarchiv
1) fill out the "Formuläre" found under the "Benutzen" tab at the War Archive website.
Be sure to fill out both the general form and the specific one. Be sure to ask for a search on a person who is a direct ancestor -- not an uncle.
The Archivists keep track of your inquiries, and if there is any chance that you will ever want to make another inquiry for the same surname, they may ask you how one is a grandfather and the other is the same (with a different birth date or place).
2) Mail the Forms to the archive and be prepared for an e-mail quote on the cost of the lookup to be 32 Euro per half hour with an estimate of 64 Euro or more. There is also a complicated transfer of funds to their bank (unless that has changed) which will cost you another small bundle.
--------------------
A professional researcher may cost you more but will probably provide digital images of the record you request. Pros like Vladimir Bohnic will accept payment on the Internet via credit card. Jakub Smid in Brno accepts personal checks in USD last I knew. You have to make your deal with these researchers before they enter the archive on your behalf.
Any pro or an archive archivist will charge you their minimum rate or the cost of all the hours spent even if they find nothing. Some pros charge less per time period than the archivists.

It may help a pro if you send a high resolution photo of the soldier showing clearly his rank and perhaps his collar insignia. An archivist will generally not make much use of a photo unless you get to the right one.
WW I records can be viewed ONLY in Vienna as of the last information I had. They have a million 3 x 5 cards with Name, DOB, Place of birth, regiment upon induction and maybe some notes on what happened to a soldier.
LDS has filmed the cards but they are among uncataloged films and are not available to view even if they were 100 years old.

What happened to a soldier during WWI can be complicated. Many who started out in one regiment may have ended up in an entirely different one when there were too few survivors of a battle to do anything but use them as reinforcements for a regiment in better condition.

Soldiers taken prisoner or who died in battle may not be well-documented. Regimental Kirchenbücher show only the deaths that were reported to the regimental staff. Unreported deaths may be "unknown" burials. The place of burial may not be documented when a regimental staff was in a hurry to retreat or to process reinforcements -- it was a question of priorities.
Regiments 28 and 36 deserted almost en masse during the Brusilov offensive. They joined the Czech and Slovak Legion fighting on the Russian side and ultimately with the White Army during the revolution. I do not know of any archive that has records of their service in Russia.

Some NCOs may have other records but that would require more research time to learn.
(The Orders of Battle page at Glenn Jewison's website will help understand where regiments were fighting during WWI. There is also a dispositions page that tells which regiments had detached battalions that served in the mountain brigades and elsewhere.)

The campaign maps at "USMA Great War Atlas" help to understand what army group, corps or division was where.

Viewing restricted records from SLC:
The restricted films can be viewed in SLC by one of the researchers on staff at the library there or by a professional researcher who will perhaps charge $100 for a "single record search." (Heirlines told me that is what they charge).
SLC may require that you fill out a form similar to the form at the Staatsarchive/Kriegsarchiv website.

Contact for the SLC researchers is at the www.familysearch.org website.
That website changes so often it is hard to know if the old URL is still correct.
I would use the contact info at:
http://www.familysearch.org/Eng/Library/FHL/frameset_library.asp?PAGE=library_contact.asp
Ask about their in-house researchers who can help you with A-H military records that are less than 100 years old.
When a reply comes, then ask that person the specifics of your inquiry. ALWAYS remember that the person you are researching has to be in the direct line of descent or you have to wait until his record is 100 years old.
---------------
On that point:
A-H records are dated as of the year of induction. That means that an officer's record dated 1905 will include the years that follow which should be restricted. I don't know how that is handled by the archivists or by SLC. They may just accept the date on the record as OK to release.
Karen
[Editor -- I am in awe of anyone who knows a subject so well she can just dash off a note like this at the drop of a hat! There's a ton of good info here, the sort of thing it takes years to learn. That's why I wanted to make sure any of our readers who might have missed the original note could have a chance to see it.]
Previously published by Gen Dobry! , Vol. VIII, No. 11, 30 November 2007, PolishRoots®: http://www.PolishRoots.org/ .
---
SnagIt—Powerful Software for capturing what is on Your Screen
Here is an inexpensive and very powerful piece of software to capture anything you find on your screen. It is available at http://www.techsmith.com/screen-capture.asp For genealogy sources, it can be used to capture portions of maps that have been blown-up with a magnifier, then saved as files. Also, when working with on-line documents, such as, passenger lists, you can capture that portion that interests you, resize it and save it as a file.
Features
With Region Screen Capture, you canselect a specific rectangular region of the screen that you want to capture. Quickly capture an image, or part of a Web page, to edit and share.
With Scrolling Window Screen Capture, you cancapture all of the contents of any window or Web page that has a scrollbar. SnagIt automatically scrolls the window during the screen capture, so you get all of the images and text in the window. This capture mode is perfect for saving those long articles you find online for easy reference later.
With Menu Screen Capture, you can capture a single menu or cascading (multiple-layer) menus from Windows applications. This mode is particularly valuable for those who work in technical support or documentation.
With Video Screen Capture, you can capture a short video of your own desktop activity. With SnagIt in this mode, you can make quick tutorial videos to share with others.
With Text Screen Capture, you can capture text from your screen — especially text that you can't easily copy and paste. Using this mode, you can also capture file lists from Windows Explorer, and the lists become editable. This is a convenient technique for creating lists of tracks from CDs that you have stored digitally, for example.
With Web Page Screen Capture, you can enter a URL and automatically capture all of the images, video and audio files from a Web site. In this screen capture mode, you can also choose the file types (.doc, .ppt, .xls, etc.) you want to download from the site.

The Image Editor
The SnagIt Image Editor makes it easy to add creative and professional touches to your screen capture. Transform your images with a full-featured paint tools palette, a variety of edge effects, and practical options for color and size adjustment.
The Editor lets you crop, resize, adjust color, add text and apply custom effects to your screen capture without ever opening another editing application.
You can use SnagIt Editor's Paint Tools to enhance your screen capture with
Arrows
Lines
Shapes
Callouts
Cursors
Stamps
Text
SnagIt lets you customize your screen captures with professional effects, including
Edge effects, like drop shadow, torn edge, wave edge, saw edge, sharktooth edge, and beveled edge
Image processing effects, like sharpen, blur, and emboss
Magnify, spotlight, and dim
Perspective and shear
Borders
Watermarks
If the colour or size of your original screen capture isn't quite right, you can make adjustments easily in SnagIt Editor. With features like crop, trim, resize, color substitution and correction, halftone and grayscale, changing the color and size properties of your screen capture is a snap.
Batch Conversion
With SnagIt's helpful batch conversion wizard, you can convert all of the screen captures in a project to the same file type, give them same look, or make them all the same size, in an instant.
---
What's New at the Steve Morse One-Step Website

The Steve Morse One-Step Website at http://www.stevemorse.org has grown to include more than 100 functions. To make the site easier to navigate, Morse has added a two-level menu. A recently added function is a portal to the Russian military personnel lost in World War II. The Morse site transliterates surnames to the Cyrillic alphabet, and the results are partially translated including name, rank and cause of death. All column headings on the results page are presented in English as well as Russian.
---
FREE Genealogy Web Courses
Brigham Young University's Independent Study program is offering FREE web courses in Family History/Genealogy. See below for course titles:

Family History/Genealogy - Introductory

FHGEN 68 - Finding Your Ancestors
FHGEN 69 - Providing Temple Ordinances for Your Ancestors
FHGEN 70 - Introduction to Family History Research
FHGEN 80 - Helping Children Love Your Family History

Family History/Genealogy - Record Type

FHREC 71 - Family Records
FHREC 73 - Vital Records
FHREC 76 - Military Records

Family History/Genealogy - Regional and Ethnic

FHFRA 71 - France: Immigrant Origins
FHFRA 72 - France: Vital Records
FHFRA 73 - France: Reading French Handwriting
FHFRA 74 - France: Genealogical Organizations and Periodicals
FHFRA 75 - France: The Internet and French Genealogy
FHFRA 76 - French Research: Paris
FHFRA 77 - French Research: Alsace-Lorraine
FHGER 71 - Germany: Immigrant Origins
FHGER 72 - Germany: U.S. Sources and Surname Changes
FHGER 73 - Germany: Jurisdictions, Gazetteers, and Maps
FHGER 74 - Germany: Reading German Handwriting
FHGER 75 - Germany: Calendars and Feast Days
FHGER 76 - Germany: Vital Records
FHHUG 71 - Huguenot Research
FHSCA 73 - Scandinavia: Jurisdictions, Gazetteers, and Maps
FHSCA 74 - Scandinavia: Reading Gothic Script
FHSCA 75 - Scandinavia: Church Records and Feast Days
FHSCA 76 - Scandinavia: Census Records
FHSCA 77 - Scandinavia: Probate and Other Records

Visit http://ce.byu.edu/is/site/courses/freecourses.cfm and register for the courses.
---
Immigrant History Research Center ( University of Minnesota)
This is a great online reference site for the American immigrant experience.
The Center's collection is particularly strong in its documentation of Eastern, Central and Southern European ethnic groups, and includes: newspapers and serials, fraternal society material, church records, and publications, manuscript collections and oral histories. Users can browse the collection online by ethnic group.
The IHRC is open to all qualified researchers. Materials do not circulate; but researchers may be able to obtain photocopies or photographic reproductions for a fee and either purchase or borrow via interlibrary loan microfilm for which the IHRC holds the master negative. Center staff conducts actual research for users only in extraordinary circumstances, at a charge of $20 per hour.
Whether your roots go back to Austria, Bohemia, Hungary, Poland, Ukraine or other countries, the Internet can open a gateway back to your ancestral homeland.
By consulting the websites listed above, help with your genealogical research is just a few mouse clicks away!
---
TUGG Newsletter is a monthly Internet magazine published by The Toronto Ukrainian Genealogy Group, providing information of interest to persons tracing their Ukrainian family history.
To be added or removed from the TUGG Newsletter mailing list,
go to: Sign Up For Newsletter
Should you wish to contibute, make suggestions, ask questions or submit articles, please click:
Send Questions, Suggestions & Articles

---